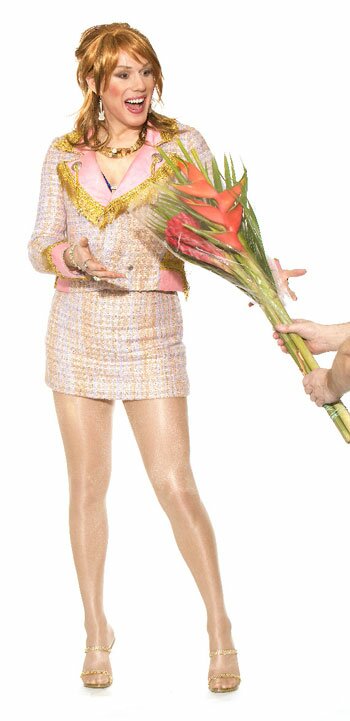 Feel the Love! The Critics Love Tina C!
"How many cabaret turns can dissect US Foreign Policy? Tina C is in a class of her own"
-The Scotsman
"As polished, sparkling and tasteless as the rhinestone on her tiny denim frock"
-The Independent
"Superbly realised…smart satire and great legs too"
-The Metro
"Catch him/her now before this cult figure becomes so widely known the Daily Telegraph will write about it"
-Time Out
"Scabrously funny"
-The Daily Telegraph
"full of satirical humour that almost had the audience falling on the floor with laughter for the whole hour"
-Joel Crotty, The Age (Melbourne)
"there is no denying that this is a fantastically funny act, but the surprise is that beneath the faux classy, trashy exterior this character is such a perfect vehicle to express her creator's obvious intelligence, brainy satire and deeply rooted anger at the American way of doing things. Highly, highly recommended"
-Sydney Morning Herald
"it works terribly well…hugely entertaining"
-Ian Hislop, The Sunday Telegraph
"Outrageously tasteless - DO NOT MISS"
-The Independent
"The most politically astute, savvy, precise and polished show of the fringe... A brilliant, thought-provoking comic creation"
-The Scotsman
"Fabulously politically incorrect"
-The Scotsman
"A wicked riff on America and celebrity"
-The Guardian
"Gloriously clever satire...I started laughing the minute Tina C came on and didn't stop till long after the show had finished."
-The Sunday Telegraph
"Genius...for pure unadulterated belly-aching fun, Tina's your girl...you'd be mad not to go. For those that like their satire sharp and smart and bordering on the tasteless"
-City Life, Manchester
"Could cabaret get any better? Every delicious drop of stage time is utterly compelling"
-Boyz
"Highly entertaining"
-Malcolm Hay, Time Out
"Tina C is the self-styled International Rhinestone Mother Theresa."
-BBC Online
"Tina effortlessly blends musical pastiche, cutting satire on celebrity culture and the US with powerhouse stand up comedy, and wipes the floor with the competition, mainstream or otherwise."
-Attitude
"Gloriously bad taste comedy"
-Sunday Telegraph, Critics Choice
"Deserves to have them hanging from the rafters"
-New Zealand Herald
"Rousingly political, slicing through the lies of warmongering politicians yet she is achingly funny, impeccably attuned to the nuances of her powerful subject matter and a damn fine C&W singer. We were in tears and a little bit in love with her, too."
-The Age, Melbourne
"...Christopher Green writes brilliant gags, and his act would still be funny even if he wasn't wearing a frock."
-William Cook – The Guardian
"Not dissimilar to Dame Edna Everage in terms of clever subversion and witty savagery, British comic Christopher Green is a more than worthy successor to the great female-impersonator mantle long held by Barry Humphries. Tina C is a brilliant, subversive creation. Armed with a great singing voice and a string of coruscating original one-liners (just begging to be thieved by lesser comics)"
-Lily Bragge, The Age, Melbourne
"Tina C can sing and write songs and looks like a million dollars in her tiny costume with legs that stretch from here to eternity. She also swings from the political to the personal and is able to code-switch between the two in a flash. Chris Green is a true star and this show is not just about its finely tuned character. Tina C is clever with a capital C."
-The Cape Times, South Africa